The Erwin Brothers
Writers/Directors/Producers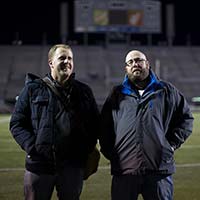 Jon and Andy Erwin are a directing team that focuses on creating faith-based and inspirational feature films. The duo began their career when they were teenagers, working as camera operators for ESPN in their hometown of Birmingham, Ala. They soon embarked on full-time careers as sports cameramen covering University of Alabama games all over the country. The brothers had the opportunity to work with ESPN College Football Primetime, FOX NFL, and the NBA covering events like the XGames and the Super Bowl.
In 2002, the Erwin Brothers started their own production company. They ventured into creating commercials, documentaries and music videos. They found their greatest success in the world of music. Soon they were directing music videos and producing concerts and television programs for platinum artists like Amy Grant, Michael W. Smith, Casting Crowns, Switchfoot, Skillet, and others. The brothers received 11 nominations and were honored with wins for Music Video Of The Year at the GMA Dove Awards for three consecutive years.
The Erwin Brothers have also produced and directed several documentaries. These include the multi-award winning 9/11 story, The Cross and the Towers, a music documentary with the band Third Day, titled Live Relations, The Mysterious Islands, a documentary filmed in the Galapagos Islands, and the international dramatic short film series, God Provides.
In 2010 the Erwin Brothers shifted their focus and began exclusively developing dramatic feature films. Their debut feature, released by Samuel Goldwyn, was a coming of age drama titled October Baby. October Baby opened in the top ten movies in America, and eventually earned over $5 million at the box office. The duo completed filming their second feature film, Moms' Night Out, for Sony's Affirm Films and Provident Films (Courageous). The family comedy stars Sarah Drew (Grey's Anatomy), Patricia Heaton (Everybody Loves Raymond, The Middle) Sean Astin (Rudy, The Lord of the Rings) and Trace Adkins (Celebrity Apprentice). The film released theatrically nationwide in 2014.