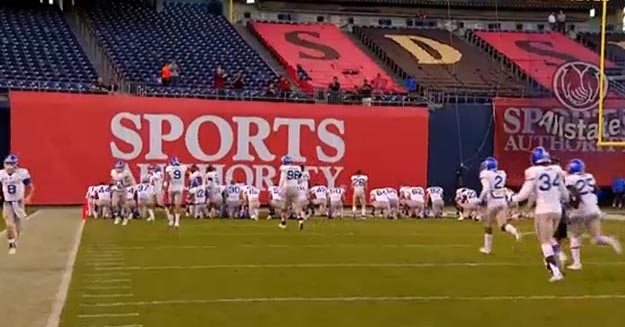 Faith, Football, and Freedom!
One of the side stories in WOODLAWN is the work of the school board member who is appalled that the white players and the African-American players were coming together in the name of Christ.
He figured if he could kick Christ out, then the true brotherhood that was occurring first at Woodlawn High and then Banks High would disappear.
Believers bowing humbly before Christ somehow seems threatening to people.
Take, for example, the people trying to bar the football team at the Air Force Academy from praying on the football field. While it sounds like a plot to a different movie, it's the reality these days.
The good folks at Alliance Defending Freedom are making sure these men of valor can continue living out their faith in a way that is sure to inspire others. ADF attorney Daniel Briggs wrote the following to Academy officials:

"Military members do not forfeit their constitutional freedoms by virtue of their service to our country. Even at the Academy, cadets still enjoy the right to free speech and the free exercise of religion. … Cadet-led prayer does not violate any purported 'separation of church and state.' Courts have long recognized that this term is a misrepresented and tiresome platitude found nowhere within the Constitution. The First Amendment does not demand that all things religious be purged from the military."
Thankfully, the Air Force Academy agreed with this interpretation.

"The United States Air Force Academy places a high value on the rights of its members to observe the tenets of their respective religion or to observe no religion at all."
You can read more about this story here and here.