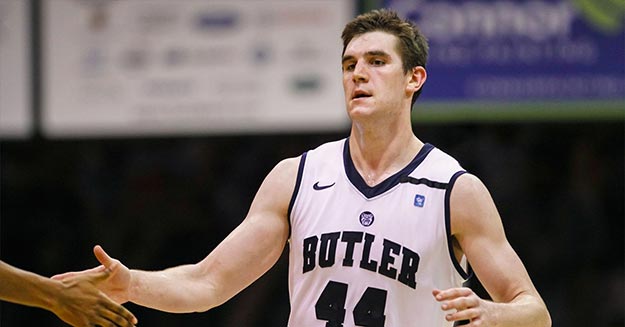 Sincere Condolences to Andrew Smith's Family
At times, it can seem like sports plays too big of a role in our culture—and if we're honest, in our own lives.
But often, sports can paint a vivid portrait of life's wins, losses, and everyday battles.
Earlier this week, Andrew Smith, a star player for Butler University during its runs to consecutive NCAA championship games, passed away at the age of 25 after a valiant battle with cancer.
Throughout her husband's ordeal, Samantha Smith kept their friends and admirers updated on her blog.
A powerful story on FaithIt about the Smiths quotes one of Samantha's posts:
"The way Andrew lives every single day preaches the Word of God. One quote that Andrew and I have prayed over and try to instill in our lives together is 'Be careful how you live; you will be the only Bible some people ever read.' Andrew and I strive to make our lives preach loudly instead of our lips and he has done that ever so beautifully. I'm so proud of him and there aren't words to describe the honor I take in being his wife."
Whether on a sports field, a classroom, or a workplace, those are words for all believers to remember. Please join us in praying for Samantha and the rest of Andrew's family.