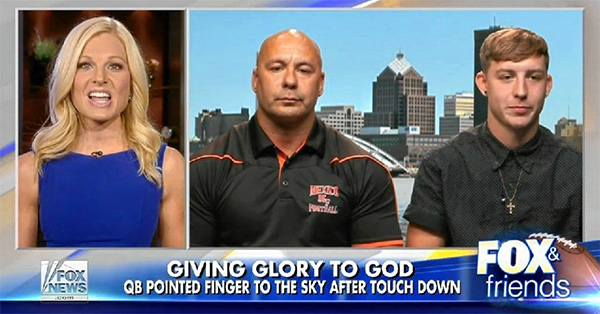 High School Student Is Penalized After Giving Glory To God
On October 17, Mexico High School quarterback Dante Turo scored a touchdown on a 73-yard run. At the end of the big play, the young Christian athlete did something he has routinely done many times before. Turo pointed to the sky.
But this time, something unusual happened. One of the referees flagged the teen for unsportsmanlike conduct, which resulted in a 15-yard penalty.
"Pointing up to God is kind of the international symbol of giving praise to Jesus, and that's all I was trying to do," Turo told Fox & Friends last week.
Turo's gesture is ironically similar to a now-famous scene in the latest Erwin Brothers film Woodlawn. At the end of a big touchdown run in the biggest high school football in Alabama state history, Woodlawn running back Tony Nathan (Caleb Castille) points to the sky making the Jesus Movement's "One Way" symbol. But in the movie, Nathan isn't flagged for unsportsmanlike conduct. Instead, both teams and thousands of fans join him in giving God the glory.
Not much has changed in 40 years. During the early 1970s (when the Woodlawn story took place) the call for separating religious expression from school activities was in its early stages. After a transformational moment when most of Woodlawn's football players received Christ, it wasn't long before school board officials began calling head coach Tandy Gerelds out for facilitating team prayers and encouraging attendance at FCA meetings.
But despite the negative consequence that Turo faced for his actions, he has plans to halt the public display of faith.
"Without a doubt," he said. "I will raise my finger."
Join courageous athletes like Dante and stand up for your faith! Gather your family and friends and go see Woodlawn while it's still in theaters. Let your voice be heard at the box office as you support this film's message of forgiveness, hope, and love.