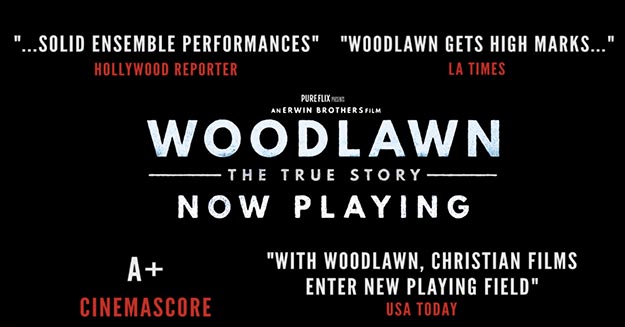 Can Christians & Critics Champion The Same Movie?
For years now, Christian movies have provided negative fodder for mainstream entertainment outlets and movie reviews. From criticisms about the overt gospel messages to heavy-handed critiques of the production value, faith-based films have rarely caught a break.
But Woodlawn has done what some have deemed impossible: The latest Erwin Brothers offering has won over both Christian audiences and the critics!
After a solid opening weekend at the box office, movie goers had high praise and gave the film an A+ CinemaScore rating, the first ever for a Christian film, and the first overall since critically acclaimed box office hits Selma and American Sniper. On the movie site Rotten Tomatoes, Woodlawn scored an average 4.5 out of 5 for a 91% fan rating.
Even more surprising has been the positive feedback from reviewers. Of the "Top Critics" on Rotten Tomatoes, 100 percent gave the film a "fresh" review.
Frank Scheck of Hollywood Reporter described Woodlawn as a "feel-good, real-life inspirational story" that "may even manage to lure viewers away from their televised football games."
Variety reviewer Joe Leydon wrote that Woodlawn's "overall narrative mix of history lesson, gridiron action and spiritual uplift is effectively and satisfyingly sustained."
Michael Rechtshaffen of the Los Angeles Times gave the film "high marks for its attention to period detail and committed performances" and lauded the Erwin Brothers for their effort "to go outside the lines."
Of course, there's always that one critic who has an axe to grind, and this time it was comedian Vincent Mancini (who not so ironically goes by the moniker FilmDrunk) playing the role of the naysayer. Yet even amongst the dripping sarcasm, Mancini admitted that, "Woodlawn looks great, Jon Voight plays an eminently watchable Bear Bryant" and "opens on this rather big-hearted note."
But the overwhelming reaction has been positive with media outlets such as USA Today crediting Woodlawn for leading the charge as "Christian films enter new playing field" and Huffington Post declaring that the movie "gets your tear ducts going, revs up the chill factor, and sends you out of the theater resolved to be a better person."
Don't take their word for it. Go see for yourself why fans and critics alike are raving about Woodlawn. Check out the theater listing below, grab your friends and family, and experience one of the most inspiring true stories ever told!