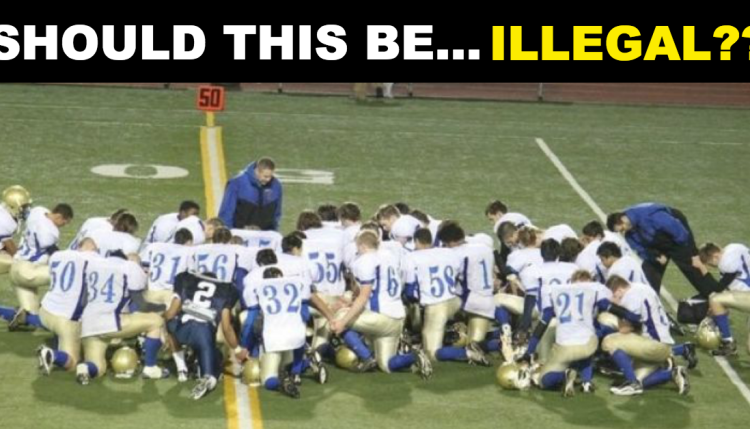 WILL COACH KENNEDY GET FIRED FOR HIS POST-GAME PRAYER?
As reported in a previous blog, Bremerton (WA) High School assistant football coach Joe Kennedy is under fire for a tradition he's maintained for the past seven years. Kennedy walks to the 50-yard line after each game, takes a knee, and says a brief prayer.
Earlier this season, the school district began investigating whether or not the coach is violating a policy that, according to a KING 5 news report states, "school staff shall neither encourage nor discourage" students from praying.
It's an uncanny story in which life imitates art.
In the latest Erwin Brothers film Woodlawn, head coach Tandy Gerelds found himself in a similar situation. After a spiritual awakening amongst the football team took place in 1973, group prayers and other religious activities became the center of a school district investigation and garnered intense pressure from the superintendent. But instead of caving in, Gerelds made a bold move that inspired an entire city.
Like Gerelds, Kennedy, who often finds others coaches and players voluntarily joining him at midfield, is in danger of losing his job. According to Fox News, the district recently issued a three-page later that forbade him from praying before or after the games.
But the 20-year Marine Corps veteran, isn't worried about any repercussions that may come his way, and plans to pray after his team's next contest. "I don't really worry about all that nonsense," he told KING 5 News. "The only thing I worry about is the kids. It's not about what my beliefs are; it's about believing in each other. It's about the sport that we love. I'm just exercising my right. The game is over, and
I just thank God for every one of these young men that are out here."
Read more about how Coach Kennedy plans to defy the school's prayer ban
Just like Coach Kennedy in Bremerton and Coach Gerelds in Birmingham, you too can boldly stand up for your faith. Make plans go see Woodlawn—in theaters now—and invite your friends and family to come with you.