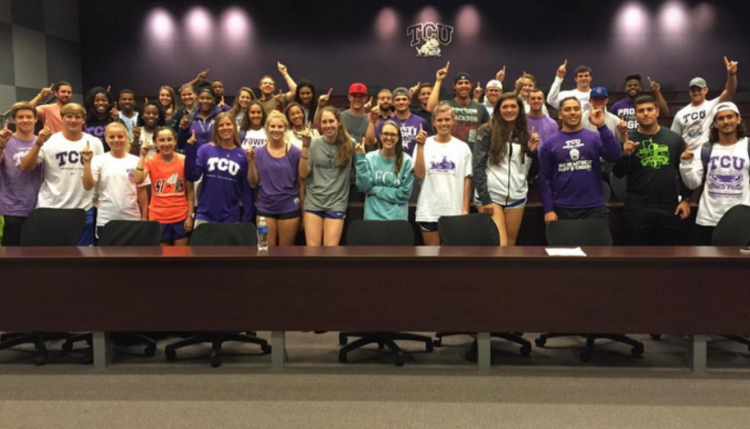 NCAA STUDENT-ATHLETES DESCRIBE WOODLAWN AS A "LIFE-CHANGING" EXPERIENCE
Several college FCA groups were able to host special screenings of Woodlawn in recent weeks including TCU, Texas Tech, and the University of Oklahoma. In all instances, the responses were overwhelmingly positive and the events resulted in some unforgettable moments.
TCU's FCA chapter hosted a special screening of Woodlawn for over 50 student athletes, including members of the #3-ranked Horned Frog football team. Afterwards, some of the words used to describe the experience were "powerful," "inspirational," and "life-changing."
FCA representative and campus chaplain Chauncey Franks organized the event that took place in the football team film room. He had high praise and higher expectations for how the film will impact moviegoers nationwide.
"Our students loved the movie," he said. "I truly believe that Woodlawn will impact many lives. I am looking forward to seeing the fruits of this film here at TCU and across the country."
At Texas Tech, FCA representative and campus chaplain Brandi Cantrell reports that close to 100 student-athletes, including members of the football, men's basketball, women's basketball, and softball teams, enjoyed "an awesome night!"
"After the movie, we gave a gospel presentation and invitation," she says. "We had five salvations and many more recommitment to the Lord. We even had one athlete express a desire to get baptized."
At a similar event earlier this summer at the University of Oklahoma a group of about 40 student-athletes, including several members of the Sooners football team, were also deeply challenged with Woodlawn's message of reconciliation and revival.
Join these chaplains and student-athletes and show your support for this important film with a timely message of faith, hope, and unconditional love. Go see Woodlawn when it releases October 16th and make sure to bring all of your family members and friends.
Check out the trailer below: