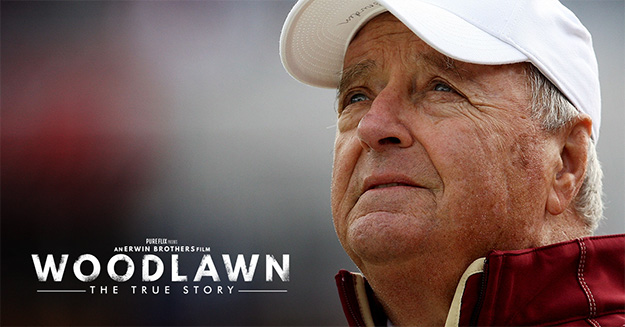 Bobby Bowden Wants YOU To See 'Woodlawn' THIS Weekend!
College Football Hall of Fame inductee Bobby Bowden has a special connection to the Erwin Brothers film Woodlawn. Not only can he identify with Woodlawn High School football coach Tandy Gerelds, whose story is featured in the movie, but Bowden also has personal ties to the story's setting in Birmingham, Alabama.
Like Geralds demonstrates in Woodlawn, Bowden was also known to stand up for his Christian beliefs in the face of scrutiny and outside pressure. Ironically, Bowden also played quarterback at Woodlawn High School where he graduated in 1948 before playing college ball at Alabama as a freshman and then finishing his career at Howard University. Woodlawn is also where he met his wife Ann.
Bowden recently emerged from an eight-month hiatus from Facebook to post a heartfelt message in support of Woodlawn.
"This story is very true to my faith and my heart," he shared. "It's a powerful reminder of the role God wants to play in our country and our neighborhoods."
Join coach Bowden and show your support for this important film with a powerful message of faith, hope, and unconditional love. Go see Woodlawn when it releases October 16th and make sure to bring all of your family members and friends.