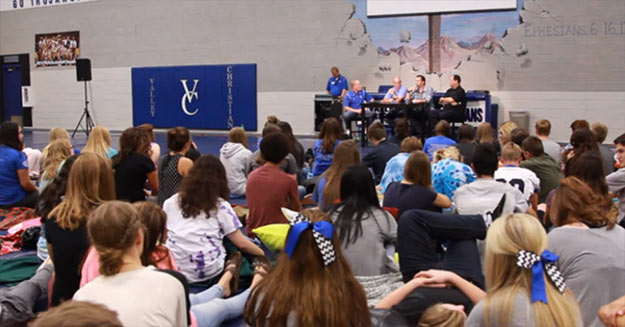 65 High School Students Make Life-Changing Decisions At Woodlawn Screening
In Chandler, Arizona, on the campus of Valley Christian High School, over 300 students gathered for a special pre-screening of the forthcoming Erwin Brothers film Woodlawn. Former NCAA and NFL champion Jeff Rutledge, whose character is featured in the film, is the school's head football coach and helped facilitate the event as part of an annual spiritual emphasis week.
Rutledge was moved to tears while watching parts of his life retold on the screen and was even more greatly impacted with what happened at the film's conclusion. Following a 30-minute Q&A that featured Rutledge and Woodlawn actor Kevin Sizemore (who plays assistant coach Jerry Stearns), a gospel invitation was given to those in attendance.
At the conclusion of this special event, there were 15 students that made first-time decisions while another 50 responded to a call to recommit their hearts to Christ.
"It portrayed everything pretty accurately," Rutledge said about the film. "It's neat to see the revival that took place at Woodlawn and from Woodlawn it went to Banks and lives changed."
"I think (Rutledge) had tears in his eyes for most the movie because [it represented] the best time of his life," Sizemore said. "For the kids to be able to see him and who he was and who he is, that was special to see."
The screening at Valley Christian was reminiscent of a scene from Woodlawn that depicts the real life moment when the majority of a high school football team accepted Christ as its Savior.
If you'd like to see this happen with the student-athletes in your community, start thinking about ways you can gather teams and groups to see Woodlawn when its hits theaters nationwide on October 16. You can also click on this link to learn how you can help facilitate special moments like the one in Chandler.