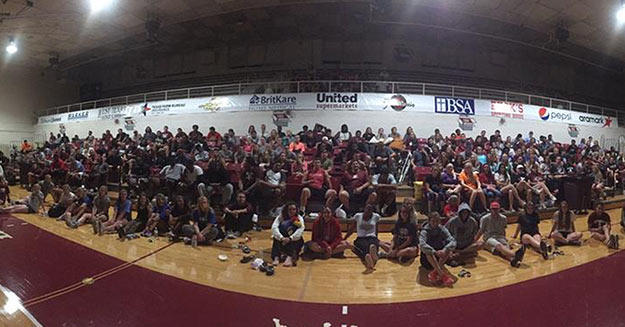 125 Athletes Accept Christ at FCA Woodlawn Screening
In Canyon, Texas, on the campus of West Texas A&M (WTAMU), 250 student-athletes recently gathered for a special pre-screening of the forthcoming Erwin Brothers film WOODLAWN. What happened afterwards were equal parts miraculous and inspirational.
FCA representative and athletic chaplain Pat Ford says what happened that night was like nothing he's experienced in 20 years at WTAMU. The attendance was twice the usual size and included most of the football team. As Ford closed the evening, he briefly shared the gospel and asked those wanting to receive Christ to stand.
"After counting to three, I was totally blown away," he said. "It was like the Holy Spirit just blew a huge breath right at me and blew me away. Over half of our group immediately stood up. To God be the glory."
The events that took place at WTAMU are amazingly similar to a scene from Woodlawn that depicts the real life moment when the majority of a high school football team accepted Christ as its Savior.
If you'd like to see this happen with the student-athletes in your community, start thinking about ways you can gather teams and groups to see WOODLAWN when its hits theaters nationwide on October 16. You can also click on this DONATE link to learn how you can help facilitate special moments like the one in Canyon.