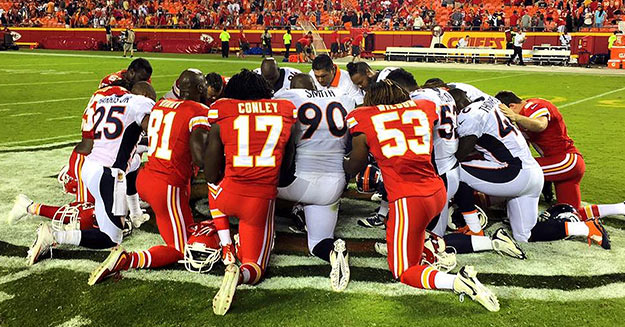 Public Show of Prayer in NFL Goes VIRAL!
On September 17, the Denver Broncos faced the Kansas City Chiefs in yet another installment of the historic NFL rivalry. Late in the fourth quarter, Broncos quarterback Peyton Manning led his team on a game-tying 80-yard touchdown drive. Then, the Denver defense picked up a Chiefs fumble and returned it for the game-winning score.
But one of the contest's most compelling images was from a photo snapped after the game and later posted on the NFL Network's Facebook site. The picture showed a dozen or so players from both teams kneeling in a circle, holding hands, and saying a prayer at midfield.
In less than a week, that photo garnered nearly 200,000 likes and over 65,000 shares, making it far and away the NFL Network's most popular post this season. That's encouraging news in a politically correct culture that is growing increasingly intolerant of public expressions of faith.
If you love to see football players bring their faith onto the field, then you won't want to miss WOODLAWN when it hits theaters nationwide on October 16. In this true story, a spiritual revival that starts with the high school football team leads to racial reconciliation through the entire city of Birmingham, Alabama.