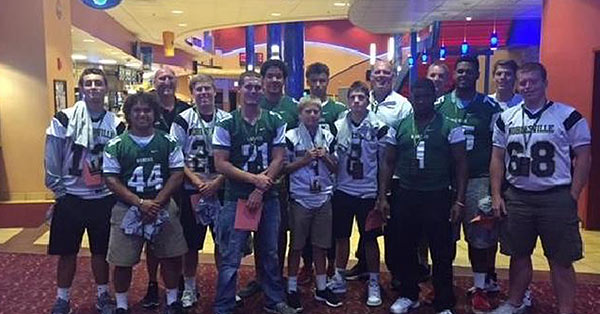 Rival Teams Unite Behind Woodlawn's Message of Reconciliation
In the upcoming Erwin Brothers film WOODLAWN, two rival football teams come together under the banner of Christ and help bring reconciliation and healing to an entire city.
With that same spirit of unity, two Indianapolis high school football teams met in an unusual location and for an incredibly inspiring purpose. On August 17th, Lawrence North and Noblesville gathered at the Hamilton 16 IMAX for a joint pre-release screening of WOODLAWN.
According to the Indy Star, players and coaches stayed afterwards to discuss the film's message and how it might apply to the challenges our nation is facing today.
"I think we're going to look at each other different because we were here together," Lawrence North junior running back Elijah Smith said. "We're still going to try to beat each other, but it makes you look at it a little different."
Four days later, the two teams met again on the football field where Noblesville prevailed in a 55-50 shootout. But the result of that game wasn't nearly important as the life-long connections that were made in the theater.
"There are things we can do as football players to better this community and make this a better place," Noblesville senior quarterback Luke Melloh said. "This movie was set in the 1970s, but the same principles apply now in the 21st century."
Read more about the story from Indianapolis here
And think about ways you can bring your community together! Make plans to go see WOODLAWN when its hits theaters nationwide on October 16 or click on the "DONATE" button to learn about how you can help facilitate special team moments like the one in Indianapolis.
Check out the trailer below: