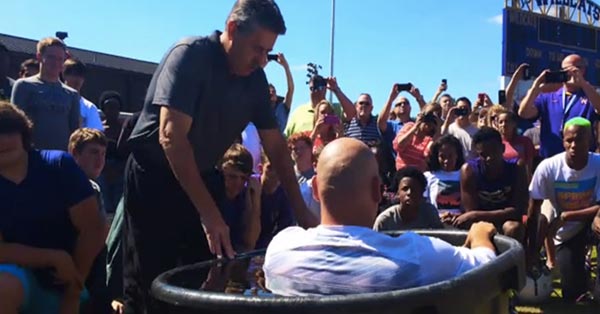 Church Draws Ire from School Board after Mass Baptisms on Football Field. Will They Be Punished for Their Faith?
In the upcoming Erwin Brothers film WOODLAWN, a high school football team comes under fire for its corporate expressions of worship such as reciting the Lord's Prayer before games and gathering at FCA sponsored Bible studies.
Yet again, it seems that life is imitating art. Last month. Kevin Williams, pastor at First Baptist Church in Villa Rica, Ga., baptized a high school assistant football coach and 18 players before a pre-season practice. It all stemmed from a summer FCA conference where 23 student-athletes committed their lives to Christ, which was followed by a football-themed church service were 13 players were baptized and another 50 came forward for an invitation.
One of those was the assistant coach from Villa Rica High School. He asked Williams to baptize him on the football field. That's when the players requested to do the same.
"It was their choice to do that," Williams told Fox News. "We live in a free nation. People choose what they want. These people that got baptized — freely chose at a church service to accept Christ and this was a follow up to that."
Like the events at Woodlawn High School over 40 years ago, the baptism service drew negative attention from the school board and the likes of the Freedom From Religion Foundation (FFRF), but Williams is quick to point out one of the most important aspects of the story.
"In that baptism, if you see the video, there's African-American kids, there's white kids, there's Hispanic kids, and they're all jumping up and embracing each other, and everybody's clapping and applauding," he said in an interview with WXIA-TV. "This is inspiring. This really bonded them together."
Read more about the Villa Roca football baptism here
Show your support for religious liberty and make plans to go see WOODLAWN when its hits theaters nationwide on October 16! Check out the trailer below: