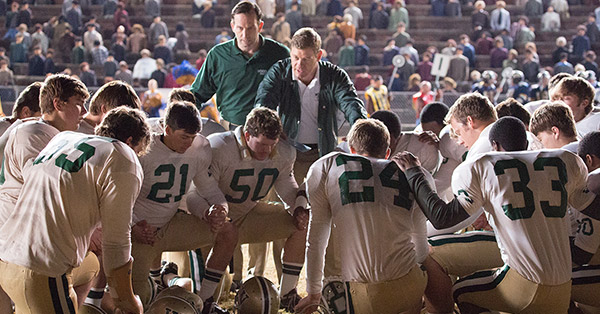 Could football Chaplains be outlawed?! An atheist group wants to do just THAT!
In the upcoming Erwin Brothers film Woodlawn, a high school football team experiences a spiritual transformation and helps spark a revival throughout Birmingham, Alabama. But not everyone is excited about the change. The school board takes issue with the presence of a team chaplain and its association with the Fellowship of Christian Athletes (FCA). In a meeting with head coach Tandy Gerelds (Nic Bishop), the school board president demands his team stop all religious activities pending an investigation.
Over 40 years later, the Freedom From Religion Foundation (FFRF) is going after college and high school football programs that they claim are in violation of NCAA regulations and federal law. The FFRF is pinpointing coaches like Hugh Freeze (Ole Miss), Mark Richt (Georgia), Dabo Swinney (Clemson), and Gus Malzahn (Auburn), among others, because they have given chaplains and FCA representatives access to their athletes.
Just like head coach Tandy Gerelds stood up for his beliefs, these brave men are doing the same in spite of severe pressure to eliminate Christian influences in the locker room. For Ole Miss head coach Hugh Freeze, his response to critics is found in 2 Timothy 1:7:
"God has not given us the spirit of fear," he told FCA Magazine. "(The Apostle) Paul was not concerned as much for those things as he was for being true to (his) calling. We don't make anything mandatory when it comes to someone's faith. I want to be outward with my faith, but I don't try to force-feed anyone."
Thankfully, religious freedom organizations such as the American Center for Law and Justice (ACLJ) are standing up for coaches and chaplains across the country.
"We are preparing comprehensive legal letters to let each of these college football programs know what their Constitutional rights are," ACLJ representative Joseph Williams says. "We are fighting the angry atheist attacks on every front. We are standing up for the Constitution and for the religious rights of football players from coast to coast as the new season begins.
Read more about this story here.
And don't forget to go see WOODLAWN when its hits theaters nationwide on October 16. Check out the trailer below: