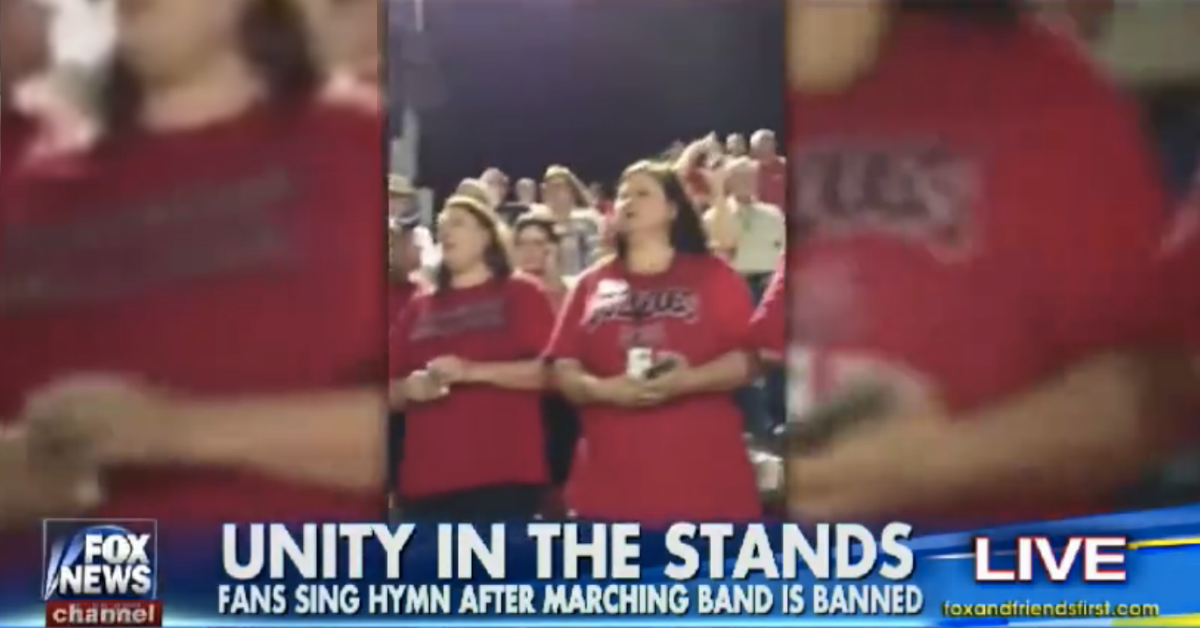 The School Board Tried To Silence Their Faith. What Happened Next Gave Us Goosebumps!
At a recent high school football game in Mississippi, the Brandon High School marching band was barred from performing its halftime show, which was to include the Christian hymn "How Great Thou Art." But that didn't stop a group of fans from joining together to sing the song as a show of support for religious liberty.
Watch how it all played out in the "Fox & Friends First" video here:
It all started when one individual started to sing the iconic chorus alone. Then, one by one, people stood and joined in until a makeshift choir filled the stadium with a unified sound.
"At that moment, I was so proud of my town – coming together and taking a stand for something we believe in," participant Brittany Mann told Fox News. "It breaks my heart to see where our country is going — getting farther and farther away from the Christian beliefs that our country was founded on."
According to the Washington Times, U.S. District Court Judge Carlton Reeves ruled that the Rankin County School Board had violated a previous agreement to suspend religious activities at school sponsored events when a Christian minister delivered a prayer at an awards ceremony. This led to further scrutiny of band director Tim Cagle.
"When I picked the halftime show in late February of last year it was with full administrative support," Cagle said in an email to the Clarion Ledger. "If we were to perform this show, taking a chance of how it would be perceived by others, and the court deems it is in violation of previous rulings, not only would the (district) face harsh fines, but also (the) RCSD would be forced to terminate the employment of anyone associated with the decision to perform the show."
The judge's order states that: "Defendants are permanently enjoined from including prayer, religious sermons or activities in any school sponsored event including but not limited to assemblies, graduations, award ceremonies, athletic events and any other school event. That means administrators, teachers and staff of the Rankin County School District may not participate in any religious activity, or solicit or encourage religious activities at school or while performing duties as a RCSD employee."
The story from Mississippi, mirrors a scene from the forthcoming Erwin Brothers film Woodlawn. Following the singing of the National Anthem at the game between Woodlawn and Banks, football coach Tandy Gerelds (Nic Bishop) asks team chaplain Hank Erwin (Sean Astin) to lead a crowd of more than 40,000 in an impromptu recitation of the Lord's Prayer. After a school board representative pulls the plug on Erwin's microphone, the fans keep the prayer going all the way until the final "Amen."
Today, there's a non-stop attack against religious liberty in the United States. But thanks to the timely and relevant message from Woodlawn, Christians are being empowered to let their voices be heard. Send a message to Hollywood and throughout the nation when the film releases on October 16th. Check out the trailer below for Woodlawn and plan to bring your friends and family to a theater near you!