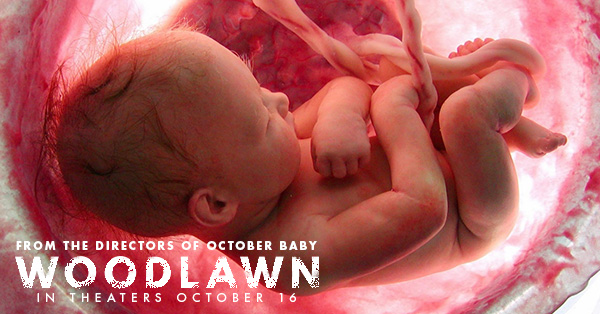 12,923
The Erwin Brothers Share Life-Affirming Message Through The Power of Film
In the forthcoming film WOODLAWN, the Erwin Brothers tackle the difficult topic of racism from a historical perspective. The true story takes place in the early 1970s and chronicles the amazing rise of Woodlawn High School football player Tony Nathan (Caleb Castille) and how the team's spiritual renewal sparked a revival that changed the city of Birmingham, Alabama.
The Erwin Brothers aren't strangers to taking on tough social issues. In fact, their first feature film October Baby (2011) tells the story of an adopted college student who discovers that she survived an attempted abortion. The movie's pro-life theme is certainly relevant to the recent controversy surrounding Planned Parenthood and the alleged sale of fetal body parts.
When October Baby released, it was supported with a social media campaign called "Every Life is Beautiful" where entertainers, activists and everyday people shared their stories of life, hope and divine purpose.
"As we began screening the film, we heard story after story of beauty in the world," co-director Jon Erwin says. "Beautiful stories of life. Amazing stories of lives being saved or children that were unwanted being adopted."
That inspired the Erwin Brothers to set up a fund where 10 percent of the profits from October Baby would go to support crisis pregnancy centers, adoption agencies, and organizations that are caring for orphans.
To many people, abortion and racism may seem to be two very different issues, but they are inextricably connected to the same basic principle. All life has value in God's eyes. That includes lives of all races and lives that have yet to be born. Thousands of years before scientific advances allowed for the detection of a heartbeat just five weeks after conception, David famously wrote these words about the unborn from a divine perspective.
"You made all the delicate, inner parts of my body and knit me together in my mother's womb." – Psalm 139:13 (NLT)
While October Baby deals with the fight for the unborn, Woodlawn takes an historical look at a different kind of injustice that was rooted in the prevalent and deep-seeded prejudice found throughout the Southern states as recently as 40 years ago. Even as racial tensions have been enflamed across the U.S., over the past several months, the solution to both problems can ultimately be found in the same place – God's perfect love.
Help spread that message of hope with others. Check out the trailer below for WOODLAWN and make plans to bring your friends and family to a theater near you when the film releases nationwide on October 16th!
For more information on "Every Life Is Beautiful" Click Here