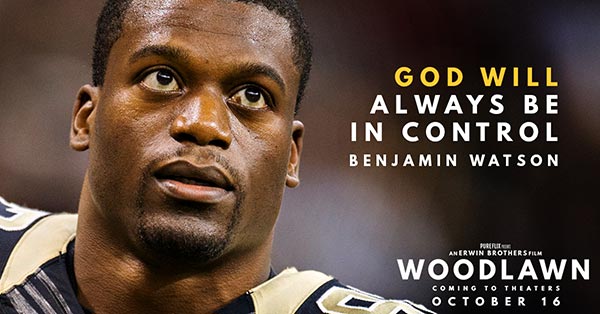 8,241
NFL Tight End Benjamin Watson Makes A Powerful Statement About Race Relations in America
In the forthcoming Erwin Brothers film Woodlawn, black and white members of the high school football team in Birmingham, Alabama, joined together to make a statement against racism. With their actions on and off the field, these young men showed love and forgiveness for one another and modeled what true reconciliation should look like.
During the early 1970s, the Internet was an unimagined technological advancement. Perhaps that why so many great stories have taken decades to emerge. But today, thanks to social media and countless television outlets, athletes and coaches can make an even greater impact as they raise their voices against injustice and unite to model Christ to the world.
One such athlete is New Orleans Saints tight end Benjamin Watson. As racial strife festered in places like Ferguson, Mo., Staten Island, N.Y., North Charleston, S.C., and Baltimore, Md., Watson decided to take a stand—but not with an angry and defiant tone. Instead, the NFL veteran took a measured and balanced approach. Watson refused to use sweeping generalities or resisted the temptation to employ dishonest defenses amid the debate that was breaking out on cable news channels and in coffee shops and workspaces across America.
"It is the family that God has charged with the spiritual, emotional and social development of the next generation," Watson wrote in a compelling blog following the shooting death of Walter Scott. "You want the next generation of young people of all complexions to become law-abiding citizens? Demonstrate and teach order in your home!"
Watson also pointed out how America is at a turning point and how "as a nation, we are at a critical juncture."
"I struggle to remember a time in recent history where there has been so much protesting boycotts and riots in city streets as well as on Capitol Hill," he wrote. "We must never be afraid to call right, right, and wrong, wrong."
Most importantly, Watson has consistently preached a message of trust in God and a belief in the hope of Heaven that he believes is the key to overcoming the struggles society is facing today.
"God knows what is going on in our world today and he has always, is always, and will always be in control," he wrote, "We live in a fallen world, where hatred, disobedience, pride, cruelty, rebellion and greed prevail. While we must reflect His glory in a dark world, and stand for truth and righteousness, we must also realize that this is not our home. No matter how many, laws and penalties we enact or how many race reconciliation summits we hold things will never be completely perfect this side of Heaven. So as we face setbacks and discouragement, let us keep an eternal perspective and anticipate that day."