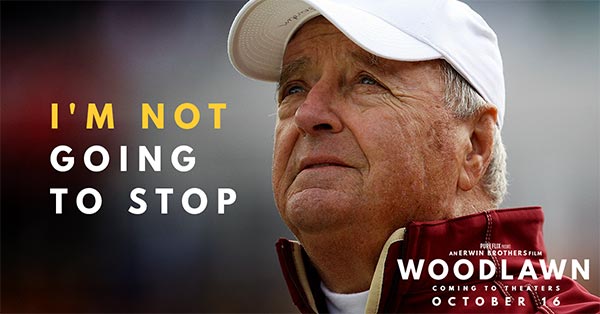 6,694
The Faith That Bobby Bowden Refused to Give Up
In the forthcoming Erwin Brothers film Woodlawn, spiritual revival spreads throughout Birmingham, Alabama, during the early 1970s. But in this true story, the fuse isn't lit within the walls of church. Instead, the sparks come from inside a high school gymnasium where over 40 Woodlawn football players accept Christ as their Savior in one divinely inspired moment.
Head coach Tandy Gerelds eventually follows suit and decides that its time to start doing things differently. This means allowing a young man named Hank Erwin to serve as the team's chaplain. The team begins praying together and leading a revolution of unity amid the post-Civil Rights Movement era.
Gerelds spiritual leadership doesn't come without consequence, however, as the Alabama Association of School Boards begins to raise concerns about the implementation of religion into the public square. As the pressure is applied, the newly converted coach must make some difficult decisions about how to live out his faith on the football field.
College football legend Bobby Bowden can relate to Gerelds' plight. As the former head coach at Florida State University, Bowden was consistently bold in his stance as a Christian and made clear his desire to run the program based on his personal beliefs. Ironically, Bowden also played quarterback at Woodlawn High School where he graduated in 1948 before playing college ball at Alabama (as a freshman) and Howard University.
"You can live by biblical principles and you can teach by those principles and still be a winner," Bowden says. "So many coaches think you've got to kick your players in the rear end. You've got to cuss them out. You've got to hit them across the head. No. You don't have to do that. You don't have to touch a kid. You don't have to scream at a kid. But you can take the principles of the Bible and you can take the principles of Jesus Christ and transfer them right into coaching."
In a time when football practice was more like boot camp and coaches acted more like drill sergeants, Bowden took a different approach long before relational coaching was all the rage. And it worked. In his 44 years as a head coach, he compiled 377 wins and two national championships (1993 and 1999).
Bowden, along with peers such as Hall of Fame Nebraska coach Tom Osborne, was also one of the first college coaches to intentionally apply Christian values to his job. Every season, Bowden took his team to two church services in Tallahassee. One of those trip was to a predominately white church while the other was and to a predominately black church.
"It's a wonder the ACLU didn't get after me pretty good," Bowden admits. "I really kept thinking they would…I wanted (the players) to see they were welcome no matter what the color of their skin was at either church."
Bowden also had prayer before and after every game and a team Bible devotion the night before every game as well as a Bible devotion and prayer time at his morning coaches meetings. Each of his coaches took turns leading the discussion group.
"I'm sure the ACLU would be very disappointed in me," Bowden says. "I told our president, 'If they ever say anything about it, I'll go underground, because I'm not going to stop."