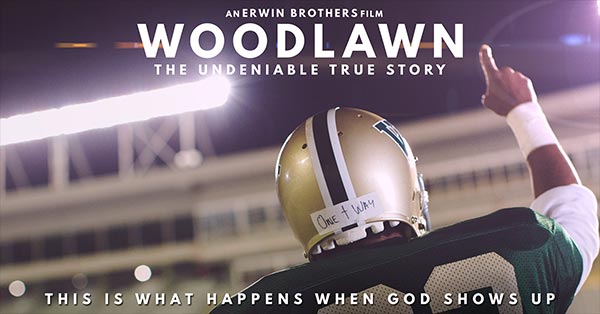 947
Prominent pastors pave the way to reconciliation
In the forthcoming Erwin Brothers film Woodlawn, a racially divided high school football team encounters the transformative power of God's love.
Based on a true story that takes place in Birmingham circa 1973, the setting and time period are eerily similar to the civil unrest America has recently faced in communities such as Sanford, Fla., Ferguson, Mo., Staten Island, NY, North Charleston, SC, and now in Baltimore, Md., where tensions between citizens protesting Freddie Gray's death and the local authorities turned violent and destructive.
In much the same way that Birmingham came together 42 years ago, we now see signs of a similar time of healing and restoration on the horizon. This time, it's a multi-racial group of prominent Christian pastors who are spearheading the national effort. Self-identified as The Reconciled Church, these leaders are hosting events across the country including one that took place on April 29th in Orlando.
Co-founders Bishop Harry Jackson (Hope Christian Church, Washington D.C., Bishop T.D. Jakes (The Potter's House, Dallas, Tex.), and James Robison (national evangelist and host of Life Today) released this powerful statement:
"What news cameras were to Civil Rights, cell phone cameras and real-time recordings are to this generation. They help ordinary Americans see the madness. Our hearts bleed for the suffering families, and not just for them. We grieve for every person who encounters injustice and brutality with no camera to show the underbelly of anger that turns standard situations into a travesty of 'protection.' And though we can't give all Americans a recording device, we can give the voiceless a voice…We cry for justice – the lasting justice of changed minds and hearts. Black, brown and white, solutions lie not in reaction but in unified action."
Church leaders in Baltimore were the most recent clergy to take their place on the frontlines of this emerging conflict and stand between angry mobs and the police. They took their lead from pastors such as A.R. Bernard (Christian Cultural Center, Brooklyn, NY) and Joel Hunter (Northland Church, Longwood, Fla).
Bernard was credited as one of the leaders to help prevent rioting in New York City after the Eric Garner case while Hunter was part of a larger group of pastors to form Sanford Pastors Connecting in an effort to rebuild trust between the community and law enforcement officials.
"The impact of the clergy getting involved always takes it to another level," Barnard recently said at an event at First Baptist Orlando. "Jesus Himself was tempted by three social institutions in terms of Satan's offer of power – the economic power which was symbolized by turning stones into bread; political power when He was shown all the kingdoms of the world at the moment in time; and religious power when he was taken to the pinnacle of the temple. These social institutions are the main institutions that shape and inform culture, so it's no surprise that God would stir the church, which is a pillar of ground, to get involved and begin to take a leading role in what's going to happen socially in our nation, politically in our nation, and spiritually in our nation."